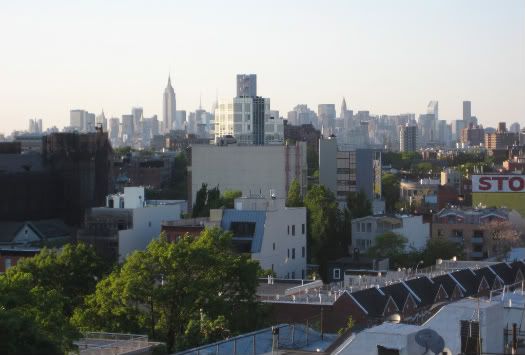 I'm baaackkk!! It is
so good
to be back in the city. I've been pretty swamped with design work so I haven't had the chance to do quite as much frolicking-gleefully-through-the-city as I would have liked, but I did
finally
get the chance to visit the apartment of our great friends, the culinary masterminds behind
Cocktail Buzz
, Paul and Steve. They've been in Prospect Heights for years and I always hear about their legendary balcony from Mom, and I finally got to see it in the flesh - and damn, it was gorgeous. Near-360º views of Brooklyn and the Manhattan skyline, tons of space to lounge and sip cocktails - I'm not gonna lie, I was pretty damn jealous, considering my new place has not a scrap of outdoor space. A girl can dream...
But it's not just the outdoor space that's amazing - the interior of the apartment is pretty awesome as well. Being master mixologists, their bar is totally drool-worthy, stocked with crazy obscurities such as Creme de Violette (the fragrant elixir that colored my cocktail at Emeril's that lovely lavender shade), as well as an impressive number of homemade flavored gins and vodkas. Rhubarb bitters, anyone? How about some tarragon-infused vodka? So enviable.
I am also kind of obsessed with their creative storage solution for their borderline-excessive spice collection. So clever! And all inexpensive to assemble, nice and uniform, and quite cute. I totally want to steal the idea, but I'm a big fan of shaking my spices into soups and sauces with wild abandon, so the fact that those quaint little Ikea spice jars don't come with any sort of perforated cap is kind of a bummer, since I'm not a big measurer, and I tend to be a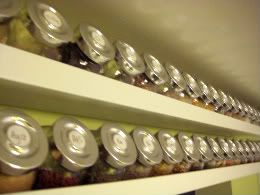 menace with shaker-less spice jars (just the other day I accidentally dumped my mom's entire shaker-less bottle of Penzey's basil into my bolognese... oops). Anyone know of somewhere to get some sort of shaker insert to fit those Ikea jars? Or know of any other cute, inexpensive spice jars that come with that fabled scrap of perforated plastic? Whoever finds a viable solution wins a spice jar full of my famous chai tea mix :)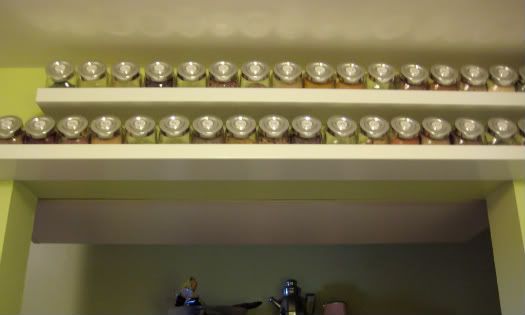 In addition to the killer balcony, awe-inspiring bar, and crazy spice collection, they have this AMAZING neon cloud sign, which is just so fabulous. I want one!!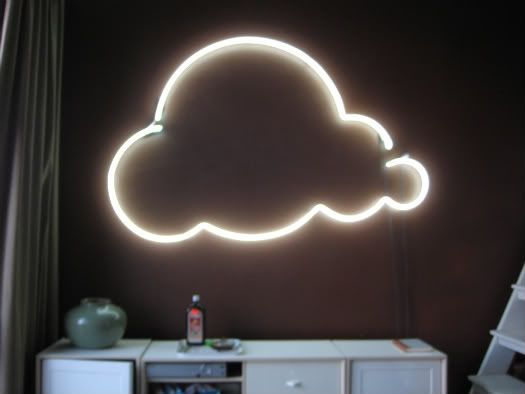 The boys fed us delicious burgers and classic margaritas, which we sipped on their glorious balcony, watching the sunset over our beautiful Brooklyn.