Oh my goodness! Mom came home today from a trip up to the country for some relaxation (and inevitable antiquing), and came back with some MAJOR scores, the clear winner of which being this AMAZING, retro office chair tht she found for 16 freaking dollars at the Westport, CT Goodwill. The thing is effing
gorgeous
, with black leather upholstery, heavy, artfully-aged iron hardware, and a sexy little studded detail around the seat and back. I am IN LOVE with this chair.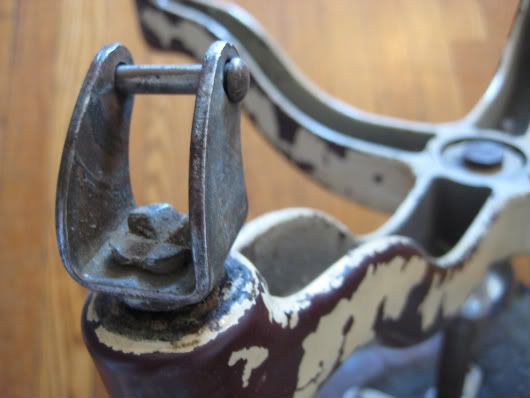 The only problem is that it's missing a wheel from one of it's original casters, meaning it is not really sit-in-able yet! Sad face. I assumed it would be a no-brainer to replace, but I've been trying to find a matching caster to replace it (or even just a set of 4 casters of the right size that at least vaguely fit in with the vintage aesthetic), and apparently the exact style and size I have is effing
impossible
to find!! Grrrr!! Has anyone out there had any luck replacing casters on vintage furniture before? Any and all advice would be much appreciated! I'll keep you posted on the progress, but in the meantime, put those thinking caps on!