This time around, I made sure to obsessively document the "before" state of our new space. I even made a floor plan... at work (the battle of competing interests is truly a fierce one). So here are the "before" photos, working from the front door back to the patio (!!!! Yes, we have outdoor space! *dances around like a giddy freakshow*).
THE FRONT ROOM:
THE MIDDLE ROOM:
THE ONLY CLOSET (wah-wah):
THE KITCHEN:
THE DECK (!):
PRETTY CHERRY BLOSSOM FOR GOOD MEASURE:
So there you have it. The bones are really pretty fucking awesome (11' ceilings, wood floors, clawfoot tub, ginormous windows, aforementioned dreamy outdoor space), but there are definitely some interesting design challenges to tackle.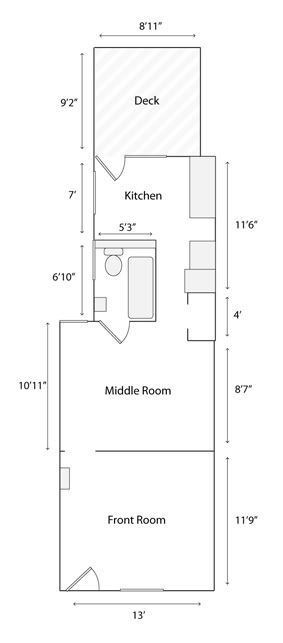 I really should post some "in progress" shots of how the place looks at this very moment, because the space actually looks pretty perfect when there's NOTHING IN IT, but once you try to cram all our crap in there, and end up with a bunch of cardboard boxes and errant pieces of furniture strewn about all haphazard and shit, you begin to realize that the almost complete and utter lack of ANY built-in storage whatsoever is a bit of a problem (and don't try to say "but what about those horrible, looming wardrobe thingies?" - they are going away immediately. Let's be real here.)
And while the ceilings are soaring and amazing, and we are so lucky to have two small rooms (i.e., a one bedroom) rather than one big one (i.e., a studio), we are essentially working with two 11' cubes, which presents its own set of challenges (particularly with the railroad layout we've got going; you are either sleeping right up against the street and walk immediately into the bedroom through the front door, or you have to walk through the bedroom to get from the living room to the kitchen/bathroom/anything else).
HMMMM.
We've got some ideas brewing, so I hope to post some potential furniture layout sketches, as well as some incriminating "here's what we're working with" in-progress shots to give y'all a little context. Stay tuned!